Soluno Reports gives you the possibility to analyze the company's communication patterns:
1. Log on to and manage Reports here.

The first time you use a new account in reports, you have to verify the account and create a new password. Call or mail the Solunos support to receive a "Get started mail" if you don't have an account already.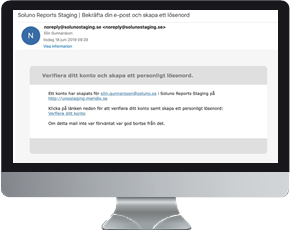 2. Click on Advanced reports to create your very own report.



3. Choose the parameters of your choise and click on Report Targets (this is where you'll get the data from) and choose Execute report.
A – The date range
B – Include / exclude weekdays.
(If you only want to measure on working days, deselect Saturday and Sunday to exclude these in the report).
C – Select Special if you only want to see specific dates.
D – Define what hours of the day you want to measure.
E – Choose whether you want to see calls, for example, per hour, per day or over the entire period (can be changed afterwards).
F – Choose the type of category you want to see statistics for. For example, Users or CallGroups.
G – Choose how the report should be grouped.
H – Report content shows which items are in the selected category. For example, if the User category is selected, all users will be shown in the report target.
I – Click on Execute Report.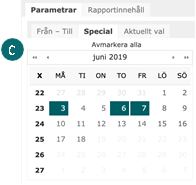 4. After you've clicked on Execute Report the report will show up.
If you want to see a detailed call log select the tab named Specifications and click on Calls.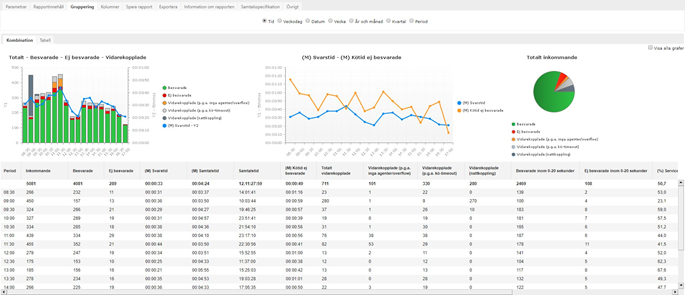 5. Save your report.
To save or send a created report, click on the tab called Export.
A – Click Save as File to have the report locally on your computer.
B – Select Send as Email to send the report to you or a colleague.
C – In this field, you select the email address to receive the report.
D – Define which file format you want the file to be in.
E – Choose whether you want to see calls, for example, by the hour, per day or over the entire period.

6. Save/Create a recurring report
Click the Save Report tab to create recurring reports. Make your choices and then click Save.
A – Click Save Report to create a recurring report.
B – Here you choose when the report should be sent.
C – Choose from which period the report should be retrieved.
D – This value determines how the report should group the results for selected parameters.
E – This value determines what types of time periods the lines in the report should describe.
F – At least one of these choices must be checked to create the recurring report.

7. You can find your saved reports under the Saved reports tab. Here you can sort by name or mailing. Here you can also edit previously saved reports.