Automatic download
Many have auto download enabled on installed applications. This means that the app is constantly looking for new information on its own. It could be line status in Soluno's app, chatting via Facebook Messenger or the worst culprit of all, automatic mail and calendar retrieval. In fact, automatic mail retrieval is the single biggest reason why roaming costs hits the roof.
Disable data roaming even before you leave
We therefore recommend that you disable roaming on your mobile phone even before you start your travel. This way, apps cannot search for new information and avoid unwanted roaming. Since Voice roaming is still active, you can still receive the SMS we send out with tips on our various fixed-price data roaming solutions.
Once you have sent the order of the data roaming package and received confirmation via SMS, then it is ok to activate data roaming again.
Use Wi-Fi
If you are traveling outside the EU and do not want to buy any data package, you can always choose to browse only via the Wi-Fi available at, for example, hotels or restaurants. In that case, let data roaming remain off during the entire trip.
Different zones
Rates for roaming around the world are divided into zones. In the EU, roam like at home applies, then there are Other Europe (countries located in Europe but not in the EU), World 1 and World 2. Since prices for destinations in World 2 are always very expensive in comparison with Other Europe and World 1, we always recommend that data roaming is turned off when you are in this zone. See which countries belong to which zone on page 2.
Data roaming does not handle calls and text messages
Note that data roaming only handles data and MMS. Calsl and text messages use the voice roaming / voice roaming service, which isn't affected by disabling data roaming. There you have an active choice to receive / make calls or send sms.
Our fixed price packages for data roaming
We offer two different types of fixed-price packages for data roaming. You order these packages by emailing our support at the following address: support@soluno.se.
Daypass
This service is activated on your subscription, the service is then latent and starts automatically every time you are abroad. Therefore, you do not need to re-order it after a stay abroad.
The price is between 99- 169 SEK/day depending on the zone. In most zones 1GB is included, but in World 2 25MB is included for 149kr. This fixed-price charge will end up on your invoice the next month from when you first used your roaming.
Travel pass
This service can be activated no earlier than 12 months before your trip, and we charge the cost immediately when the product is activated. However, your roaming balance will only start to be deducted when you use the roaming in the affected zone. These packages are active for a maximum of 14 days and contain 3GB for SEK 499, except for zone World 2 where you can use 100MB for SEK 399.
VoIP och samtal i utlandet
Calling abroad is something that can skyrocket in terms of cost. There is a good solution from Soluno called VoIP. This means that the call connects through the data network to Soluno's switchboard and then goes out on the telephone network. You are therefore charged as if you called the call from Sweden and for the data used for the call.
What is needed is either a data packet (24/7 passport or Travelpass), or a WiFi connection. You also need to have VoIP enabled on your company, which can be done through Soluno's support. In addition, VoIP should be turned on in your app, something you enable under Settings in the Soluno app.
It is important that outgoing calls are always initiated from the app and not from the phone's usual keypad / phonebook. Otherwise, there will be no VoIP call and you will be charged as an international call.
If you make a call through VoIP over Wi-Fi and call a Swedish number, the call becomes a normal national call in Sweden, and if you have a fixed-price subscription then the call is included. If you call a foreign number, it will be like from Sweden to the destination you are calling.
Activate VoIP in the Soluno App
1- Open your Soluno app and go to the "Settings" tab.
2 - Once you're inside the settings you will see "VoIP". Activate VoIP by dragging the button to the right.
PS: To make a call via VoIP, the call needs to be dialed out of the app. Either through the keypad or through the contacts in the app.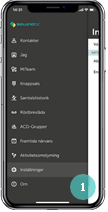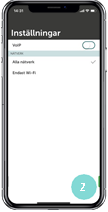 Zones
Zone Other Europe
These countries are included: Albania, Faroe Islands, Greenland, Monaco, Montenegro, Switzerland, Serbia
Zone World 1
These countries are included: Andorra, Argentina, Australia, Bangladesh, Brazil, Burma / Myanmar, Chile, Colombia, Cyprus (north), Egypt, Guernsey, Hong Kong, India, Isle of Man, Israel, Japan, Jersey, Canada, Cape Verde, China, Macedonia, Malaysia, Mexico, New Zealand, Pakistan, Russia, Singapore, South Africa, South Korea, Taiwan, Thailand, Turkey, Ukraine, USA, Belarus
Zon World 2
These countries are included: Afghanistan, Algeria, Angola, Anguilla, Antigua and Barbuda, Armenia, Aruba, Azerbaijan, Bahamas, Bahrain, Barbados, Bermuda, Bhutan, Bolivia, Bosnia - Hercegovina, Botswana, Brunei, Burkina Faso, Burundi, Cayman Islands, Central African Republic, Costa Rica, Curacao and Bonaire, Dominica, Dominican Republic, Ecuador, El Salvador, Ivory Coast, Ethiopia, Fiji, Philippines, United Arab Emirates, Gabon, Gambia, Georgia, Ghana, Grenada, Guatemala, Guinea Bissau, Guyana, Haiti, Honduras , Indonesia, Iraq, Iran, Jamaica, Jordan, Virgin Islands - American, Virgin Islands - British, Cambodia, Cameroon, Kazakhstan, Kenya, Kyrgyzstan, Congo-Brazzaville, Congo-Kinshasa, Kosovo, Cuba, Kuwait, Lesotho, Lebanon, Liberia, Macao , Madagascar, Malawi, Mali, Morocco, Mauritania, Mauritius, Mozambique, Moldova, Mongolia, Montserrat, Netherlands Antilles, Nepal, Nicaragua, Niger, Nigeria, Oman, Palestine, Panama, Papua, New Guinea, Paraguay, Per u, Puerto Rico, Qatar, Rwanda, Samoa, Saudi Arabia, Senegal, Seychelles, Sierra Leone, Somalia, Sri Lanka, St. Barthelemy, St. Kitts and Nevis, St. Lucia, St. Martin, St. Vincent and the Grenadines, Sudan, Suriname, Swaziland, South Sudan, Tajikistan, Tanzania, Chad, Tonga, Trinidad and Tobago, Tunisia, Turcs & Caicos, Turkmenistan, Uganda, Uruguay, Uzbekistan, Vanutau, Venezuela, Vietnam, Zambia, Zimbabwe
Order
You can also choose to order the service even before you leave, then the service will automatically activate when you are in the zone for which your chosen surf package is valid. From the time you purchased the service it is latent for a year to come. Therefore, it is important that you do not order the service more than 12 months before you intend to use it. To order a Travel Pass before traveling, contact support@soluno.se.